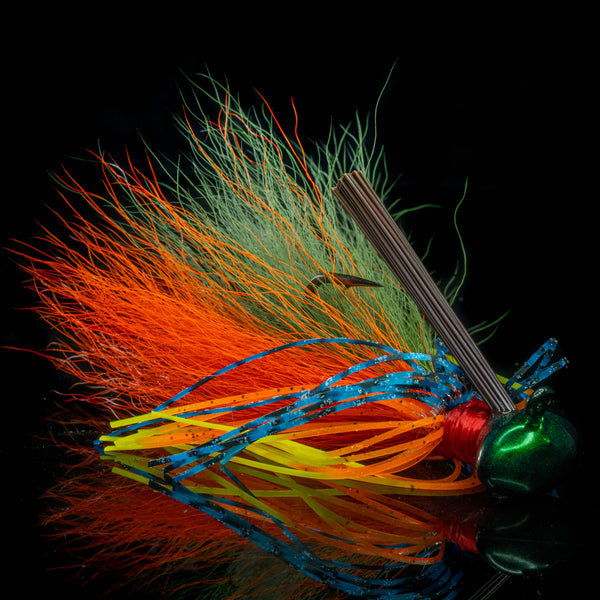 The NCB Hybrid-Skirt™
The Hybrid-Skirt lure design blends together bucktail (deer) hair along with a rubber skirt.  The bucktail, all of which is dyed in shop, is first hand tied onto the head of the lure.  A rubber skirt is then overlaid on top, giving a unique multi-textured appearance rarely seen within the industry.  The movement of the bucktail displays a "sinewy" motion, much like the fins and gills of a fish.  This natural hair further works to conceal the hook, helping to mask any unnatural shine given off that may result in fish not biting.  Additionally, the rubber skirt adds an outward flare to the bait, giving the illusion of a stocky appearance while retaining a nimble profile.  Each lure is hand tied with high durability, waxed thread.  No rubber bands are used.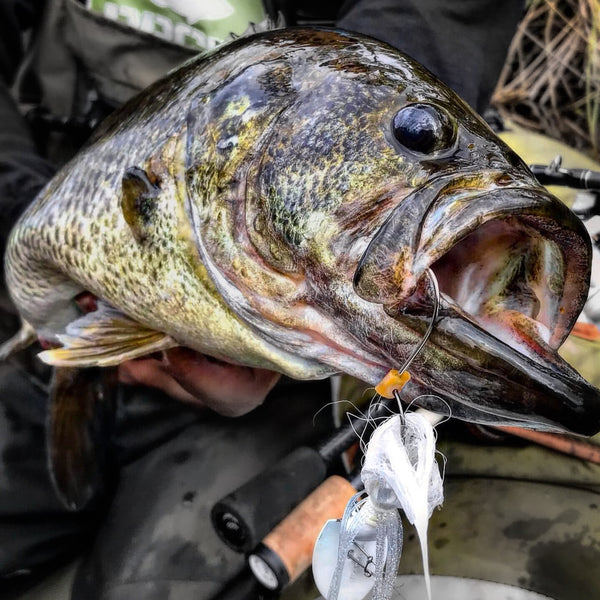 overheard on the water
NCB makes some proven baits! The Hybrid Vibe is one of the best vibration baits I've ever thrown. It has an awesome hunting action and comes through grass nicely. It also doesn't get hung up easily as some others. His structure and swim jigs have produced some big fish for me as well!

Central PA Fishing Guide Joe Campbell (excerpt from interview)
When I won the ABA RAM Truck Open, I was throwing the Hybrid Vibe.  After landing 40 fish (at least 12 over three pounds), the lure was still intact.

Anthony Kashiwsky (excerpt from interview)
The pride put into these lures shows in their quality! Built to take a beating, fish after fish. Your gunna want to hide these from your buddies!

Nick Brummet
Amazing service.  Real high quality hand made lures. Shipping was cheap and extremely fast. His colors and his vibe are amazing. When you get them in the mail, you are immediately impressed. Great job!

Juan Rojas
Awesome hand tied lures. The gentlemen who runs the business is respectful and awesome at what he does. Whether it's customer service or just simply a talk about bass fishing, he'll take the time to make sure you're taken care of.

Paul Davis
The NCB Advantage
Take a particular liking to one of our patterns? Good news, it's available in every lure style! When designing NCB color schemes, we set in place a standardized system of 30 patterns for each lure...
NCB Brand Updates
We use our emai list to provide only relevant info on new product releases, sales, exclusive deals and more. We DO NOT spam!